From evaluating performance for device development, until final testing after assembling, CDK offers a full range of RF test technology to meet our customers' needs.
Testing Technology for RF
・Low-noise HEMT, High power FET for base station, Wireless LAN switch IC have tested.
・Have a rich experience and record about high throughput and high quality test.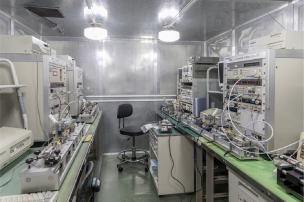 Shield Room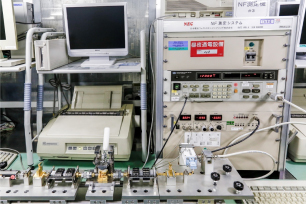 20GHz Bands Testing System
 S-Parameter Tester/Handler
 Exclusive RF Test Fixture
Testing Record
・ Test system covered device for smartphone, GPS, DBS/CS etc.
・ Designing in-house tester, test fixture and Probe Card for optimized testing.

In-house Tester
・ Tester Lineup
 HP84000 (Agilent)
  TS-1000/6900/6900S (Yokokawa)
  EM (TOKYO SEIMITSU)
  VX-4000 (Teknologue)
  SM-2106B (Kokuyo)

・ In-house production
  Testing unit
  (RF Switching Box, Signal branching filter, etc.)
  Automatic test control system
  Reducing test time by coincidence measurement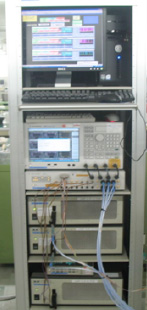 ID-250 RF Tester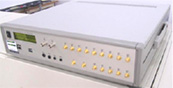 RF Switching Box
Designing Probe Card/ Test Fixture
・Designing high quality test fixture by electrical simulation in-house.
・Track records are 150um pitch RF probe card for WLCSP, RF Test Fixture for 20GHz Bands, etc.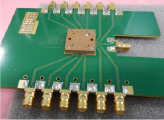 RF Probe Card for WLCSP
RF Test Fixture for 20GHz Bands