CDK supports the development and quality maintenance of customers by reliability technique cultivated by semiconductor production. Our laboratory is possible to test not only specified condition (JEDEC,JIS,JEITA) but also customized condition. In addition, we can manufacture a test fixture, measure electrical character, visual inspection and so on.
We can test at customized conditions as well as at specified conditions
(JEDEC, JIS, JEITA).
Test Detail
High Temperature Storage Test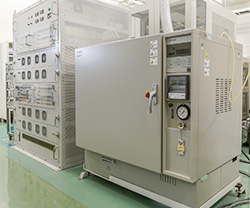 Purpose
To evaluate durability rapidly by raising temperature.
Method
Testing during specified period by using constant temperature chamber.

Temperature range 50℃ to 550℃
Atmosphere gas N2
Chamber size 450(W) x 450(D) x 450(H) mm

Equipment

NE-112 (ROBERT)
STPH-101 (ESPEC)
Temperature Humidity Storage Test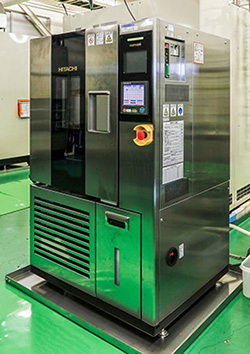 Purpose
To evaluate durability rapidly by raising temperature and humidity
Method
Testing during specified period by using constant temperature and constant humidity chamber.

Temperature range RT up to 100℃
Humidity range 20% to 98%
Chamber size 500(W) x 380(D) x 630(H) mm

Equipment
High Temperature Operating Life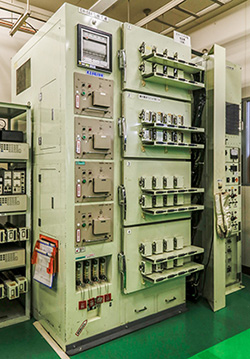 Purpose
To evaluate durability rapidly by increasing operation voltage at high temperature..
Method
Testing during specified period by using constant temperature chamber.

Temperature range RT up to 200℃
Voltage range 0V to 25V
Chamber size 500(W) x 380(D) x 630(H) mm

Equipment

EH-144 (IMAI DENKI)
NE-110,NE-110A(ROBERT)

High Temperature Reverse / Forward Bias Test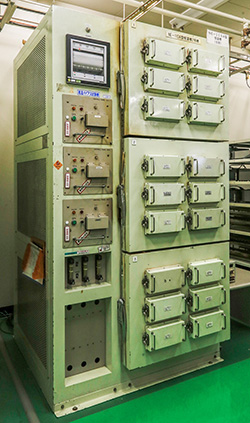 Purpose

To evaluate durability rapidly by increasing reverse-voltage or forward-voltage at high temperature.

Method
Testing during specified period by using constant temperature chamber.


Temperature range RT up to 200℃
Voltage range 0V to 25V
Chamber size 500(W) x 380(D) x 630(H) mm


Equipment

EH-144 (IMAI DENKI)
NE-110,NE-110A(ROBERT)
Temperature Humidity Bias Test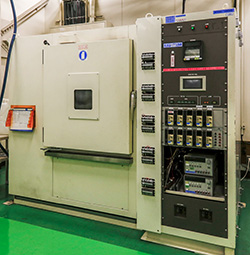 Purpose
To evaluate durability rapidly by increasing operation voltage at high temperature and humidity.
Method
Testing during specified period by using constant temperature and constant humidity chamber.

Temperature range 70℃ to 90℃
Humidity range 60% to 95%
Voltage range up to 25V

Equipment
Temperature Cycle Test (air)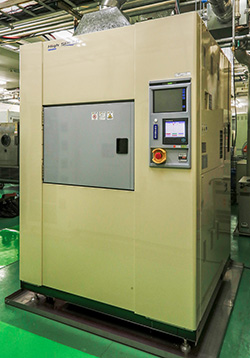 Purpose
To evaluate durability by changing temperature suddenly.
Method
Testing during specified cycles by using chamber capable of controlling high/low temperature.

Low temperature range -70℃ to 0℃
High temperature range 60℃ to 200℃
Chamber size 390(W)×390(D)×460(H) mm
       470(W)×485(D)×460(H) mm

Equipment

ES-76LM,ES-106LHH (HITACHI)
HAST(PCT,PCBT)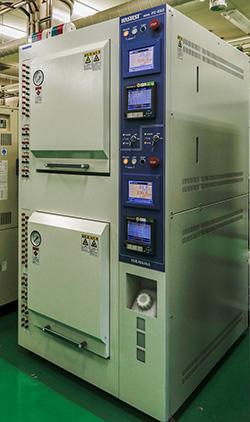 Purpose
To evaluate durability at highly accelerated temperature and humidity with high pressures.
Method
Testing during specified period by using pressure cooker chamber.

Temperature range 105℃ to 162.2℃
Humidity range 75% to 100 %
Chamber size φ340×475(D) mm

Equipment

EHS-411MD (ESPEC)
PC422R7 (HIRAYAMA)
PC422R8D(HIRAYAMA)

IR Reflow Simulator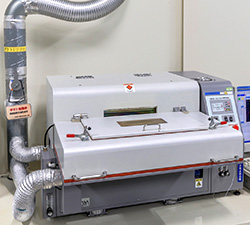 Purpose
To simulate influence when soldering.
Method
Testing during specified period and temperature by using reflow simulator.

temperature range up to 330℃
Chamber size 330(W) x 250(D) x 15(H) mm

*Have to make profile before testing.
Equipment